48th Annual AAUW House Tour is cancelled due to COVID-19 Virus
It has been cancelled in 2020, 2021, 2022, and 2023
For 47 years the Fairbanks Branch of the American Association of University Women (AAUW) has held their annual AAUW House Tour in July to raise funds for our scholarship program.  These funds support our national organization's fellowship grants and provide local scholarships for Interior Alaska women who are upgrading their education, changing careers, reentering the work force after a break, or pursuing an advanced degree or certification.  Well…due to uncertainties with regard to COVID-19 mandates, AAUW very reluctantly decided to cancel its tour this year.
Over the years we have featured three to four homes on each tour.  Wonderful homeowners have opened their homes to guests while AAUW members and friends pointed out some of the unique features of each home.  Some homes have had a home movie theater, or, a quilter's dream space large enough for a long arm quilting machine, or, an artist's studio with wonderful art on the walls and works in progress.  We have had big homes with all the modern kitchen gadgets a chef could want, small homes with wonderful antiques, remodeled homes with wine cellars cleverly built under the basement stair well, and energy efficient homes that were showcases for how to build in an Arctic environment.  We have had homes with beautiful gardens or unique interiors where every door in the house is a work of art.  One home had an elevator that took the owners to their own raven's eye view of the Tanana River, another was designed with handicap access in mind, and one was built on pilings high above a pingo with a deck surrounding the house.  Local businesses have been kind enough to serve as outlets for our tickets, while floral shops and garden club members have donated beautiful flower arrangements.
With the money raised each year, plus some member donations and money raising efforts, we have offered from two to four scholarships each year to women in our community.  Some of our scholarships have gone to women who are seeking advanced degrees such as Masters and PhD's or who are going on to law school or medical school outside Alaska.  Occasionally we have helped fund graduate research projects.  Our scholarships have been awarded to women who are reentering the work force and need to update their education or certificates to be eligible to apply for certain positions.  Some women are currently working but are looking to the future and thinking about what training they need to advance in their current field.  Or, some women are thinking about changing careers entirely and need to return to school.
The tour was cancelled in 2020, 2021 and will be cancelled again this year in 2022.  We hope that we can once again greet all the wonderful guests we have had over the years: the women who have been on every tour since they started; the several groups of women who make a day of our event and have lunch together before taking the tour together; the couples that are thinking about remodeling their home and want to see what clever ideas someone else has had; and those folks who are just curious and want to see the inside of that beautiful home they have admired from a distance.
Photos below from the most recent house tour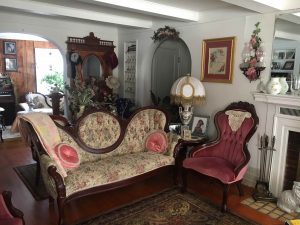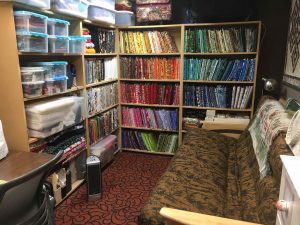 Thank you to last year's house owners, those of you who bought tickets and all the many volunteers who made the tour possible. And thank you to our special ticket outlets:  In My Element, Team Cutters Hair Salon, The Alaska House Art Gallery, and If Only…A Fine Store.
The Fairbanks Branch holds an annual House Tour, featuring local homes, to raise funds for scholarships and AAUW programs. Branch members sell tickets, recommend homes, serve as hostesses, and encourage friends and the community to attend. For more information or to recommend a house for the tour, contact the Tour Chair,  at fairbanksak.aauw@gmail.com.